Bootnscoot Yahooty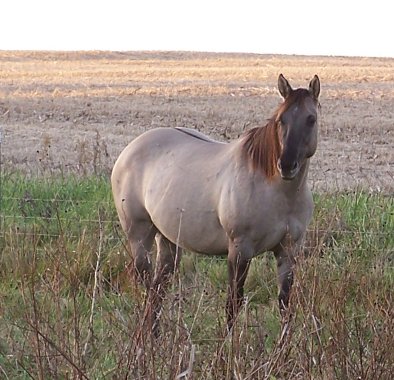 Silver grullo mare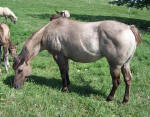 4 years old, no grain in diet. Everyone loves a good roll in the mud!
Year of Birth
Suitability
Color
Experience
Breeding Status
2002
Reining, roping, ranch, broodmare
Grullo
Could be homozygous for black
30 days riding
Click here to see our yearly foal pages.
A new window will open.
Miscellaneous Info:
| | |
| --- | --- |
| | Born 6/22/2002 |
| | About 94.3% NFQHA (parents are 90% and 98.6%), and higher % than that with FQHR most likely |
| | Sire: Blue Yahooty Hancock, grullo roan |
| | Dam: Peppy Marguarita, grullo |
| | Excellent bloodlines for any cattle work, or reining |
| | Extremely long hip! |
| | Silver color |
| | Branded on left hip |
| | Dam's full brother earned ROM in dun factor in IBHA in 2002, placed in the Top Ten at the 2002 IBHA World Show in reining, was 2002 Reserve Circuit Champion at the Gateway to the World Show, 2002 Open and Amateur Reining Champion at the Colorado State Fair, and as of October 1, 2002 was tied for 4th nationally in reining in IBHA. |
| | Could be homozygous for black (the only red horse on her papers is a great-granddam) |
| | No white feet...faint star on forehead |
| | Sire has multiple crosses to King P-234, Peter McCue, Leo, Joe Reed, Blackburn and Zantanon, plus at least one line back to Blue Valentine, Joe Hancock, Music Mount, Oklahoma Star, Plaudit, and, Bartender |
| | Dam has at least 6 crosses to Leo, 3 to Joe Reed, 2 to Peppy San, 1 Poco Bueno, 4 to King P-234 |
| | This mare is 14.3 hh or a bit over. |
| | This mare is heartwarming to look at. She is a bulldoggy mare that retains athleticism. If I could change her, I'd improve her head and ear length. But her legs, muscling, length of hip and neck are super nice! |
| | Scoot had about 30 rides by our trainer. We were lucky that he came here to ride her, rather than taking her to his place, because we had several horses for him to work with here. So I was able to watch him rider her and also to trail ride with her (he on Scoot, and me on my well-broke mare!). Scoot was VERY nice...just one of those point-n-go horses. She never threw a fit, and just walked out for him. He rode her for probably 2 weeks in a round pen and arena, and then a couple more weeks on the farm through pastures and soybean fields. It was winter, and cold, but she never bucked or hopped. She does not neck rein, but she didn't ever offer to buck and with some warm up/review, should be easy to finish out. That was probably in about 2005, and since then she has been a broodmare for us and hasn't been ridden again. |
| | Scoot had a grullo filly in 2006, another grullo filly in 2007, a black colt in 2008, and a grullo colt in 2009. To see her foals, visit our yearly Foal pages here. |
Click these thumbnail images one time to see the pictures full-sized.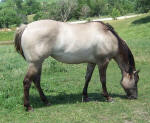 Scoot as a 3 y/o on an all-pasture diet (no grain)



Click these photos for a larger view. These are at a few days of age, and she sure looked red dun at that time. Now, however, she's obviously grullo, with black hair on her legs and her mane, tail, and dorsal stripe are all black, plus a light charcoal gray face and silver hair all over her body....The only genetic possibility is that she is a grullo (she can't be a dun because her parents both lack the dominant form of the Agouti allele/trait).
Pedigree
SIRE side of pedigree
Blue Valentine 1956
0097116 roan
H- 0.0 P- 1.0 Famous roping, barrel racing, and steer tripping horse.
Red Man 1935
0001685 roan
85 0 0 0 0 $ 0 H- 0.0 P- 2.0
Blues Kingfisher 1977
1304911 blue roan
One of last 2 breeding sons of Blue Valentine.
Beauty's Dream 1938
0001391 black
65 4 0 0 1 $ 0
Missus Robin 1966
0457329 chestnut
Reedart 1959
0113936 sorrel

Blue Yahooty Hancock 1996 3535274 grullo roan. 90% NFQHA.
AQHA point-earning offspring. Foals in Europe, US. High %-age color producer.

Machero 1961
0181211 chestnut

White Mount 1959
0119940 dun
45 1 0 0 0 $ 0
H- 16.0 P- 0.0
Music Mount 1944
0005229 dun
H- 0.0 P- 7.0 (Cutting)
Cutter Jackie 1982
1896595 grullo
100% color producer.
Smoky White 1955
0064635 dun

Jug's Babe 1971
0809653 bay
Here's How 1958
0087296 bay
H- 0.0 P- 11.0
Jug's Mary Joe 1958
0102686 bay


DAM side of pedigree
Peppys Top Deck 1989
2892055 grullo
Peppy Sun Deck 1975
1105602 bay
H- 0.0 P- 1.0 NCHA $ earner, sire of NCHA $ earners
Peppy Plan 1992
3131062 grullo
100% Grullo and dun producer. 4th place of 16 in only show, reining Sire of IBHA Top 10 World Reiner, Dun Factor ROM earner, 2002 Colorado State Fair Reining Champion--Open and Amateur
LA Plata Sunlight 1976
1183265 red dun

Expensive Ginger 1987
2622583 buckskin
Poco Smokey Too 1980
1662804 dun
Sire of Performance Pt earners
Peppy Marguarita 1999 3808109 grullo 98.6% NFQHA
Full sister to a 2002 IBHA Top 10 World Reiner, Dun Factor ROM earner, Colorado State Fair Reining Champion--Open and Amateur. See Peppy's web page for more info.

Expensive Style 1970
0780385 black

Peppy Sun Deck 1975
1105602 bay
H- 0.0 P- 1.0 NCHA $ earner, NCHA COA. Sire of NCHA earner of over $7500.00.
Peppy San 1959
0114978 sorrel
H- 26.0 P- 180.0 NCHA World Champion, NCHA and AQHA Hall of Fame
Peppy Sunrise 1991
3008462 black
Dam of IBHA Top 10 World Reiner, Dun Factor ROM earner, Colorado State Fair Reining Champion--Open and Amateur
Upper Deck Lady 1969
0615669 bay
66 5 0 0 1 $ 81 Race $ earner, dam of Cutting $ earners
Miss Thirsty Pep 1979
1551348 bay
Mr Sir Pep 1962
0213269 sorrel
Sire of World Champion, Sire of Cutting and Race money earners
MS Stylish Pep 1975
1128440 bay