2009 Grullo Colt

Click here to inquire about this colt.
| | |
| --- | --- |
| | Born May 28, 2009 |
| | ~21% Blue Valentine |
| | DNA tests confirm he is grullo. Once he sheds in the spring, he will show us his true colors. Check out the photos below of his dam as a baby next to his picture. She was an odd-colored foal as well, and she shed off light silvery grullo. |



Dam (Bootnscoot Yahooty)as a weanling, left image.
This 2009 colt with his dam ~who is now silver~, right image.
DNA/Genetics:
Red Factor (black) E/e
HERDA Negative (-/-).
Agouti aa.
PSSM Negative (-/-).
LWO negative (-/-).
GBED negative (-/-).

We have not tested him to see if he is homozygous for the dun factor gene yet (he has a 50% chance of being homozygous).

If you've seen this colt's dam, you'll know she has a very long hip (see her web page here). I think this colt's butt will be even better. Compare his dam's weanling picture to this colt's picture in the two thumbnails above.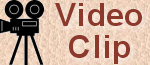 Abbreviated Pedigree
2009 grullo colt

Crowheart WYO Boy
Grullo Roan

Wyo O Blue Dun/Grullo Roan, 34% Blue Valentine
WYO Blue Bonnet blue roan, by Leo Hancock Hayes
Bonnie O Blue, roan, gdtr of Blue Valentine
Chucker Blue Maid, homozygous black
Plenty Try blue roan, by Blue Valentine
Chucker Maid, grullo

Bootnscoot Yahooty
silvery grullo

Blue Yahooty Hancock, grullo roan. Point producer.
Blues Kingfisher, blue roan by Blue Valentine
Cutter Jackie, grullo
Peppy Marguarita
grullo. 98.6% NFQHA
Full sister to a 2002 IBHA Top 10 World Reiner, Dun Factor ROM earner, Colorado State Fair Reining Champion--Open and Amateur.
Peppy Plan 1992 grullo 2 y/o Colorado State Fair Halter Champion. 10 IBHA reining points. Sire of IBHA Top 10 World Reiner, Dun Factor ROM earner, Colorado State Fair Reining Champion--Open and Amateur
Peppy Sunrise 1991 black Dam of IBHA Top 10 World Reiner, Dun Factor ROM earner, Colorado State Fair Reining Champion--Open and Amateur
Sire: Extended Pedigree: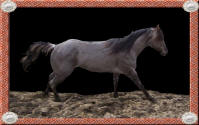 Crowheart WYO Boy
2004 Grullo Roan
Crowheart Wyo Boy

4587431 2004 grullo stallion

29.69% Blue Valentine

SIRE side of pedigree
Leo Hancock Hayes 1980 1683157 blue roan
Blue Valentine 1956
0097116 roan
H- 0.0 P- 1.0
Wyo Blue Bonnet 1992 3135976 grullo
Doll 01 1970 by Rip Rip by Leo
0717186 sorrel
Mandys Sue Hawk 1981
1763699 buckskin
Wyo Kid Curry 1976 by Rip Rip by Leo, g-son BV 1281044 dun

Wyo O Blue 1998 3740633 "Wyatt" Dun roan.
34.38% Blue Valentine

Blue Hawk 22 1972 by Plenty Coup, g-son of Joe Hancock
0841841 dun
Plenty Try 1982
1894414 blue roan
Gooseberry 1973 by Blue Valentine 0968815 red roan
Bonnie O Blue 1991
3036467 red roan
Heather Dividend 1974
1052111 brown
42 3 0 0 0 $ 0 Super Barrel Mare!
Bonny 02 1970
0723400 blue roan
Blue Valentine 1956
0097116 roan
H- 0.0 P- 1.0
Bonnie Owens 11 1956
0061706 bay

DAM side of pedigree
Gooseberry 1973
0968815 red roan
Blue Valentine 1956
0097116 roan
H- 0.0 P- 1.0
Plenty Try 1982
1894414 blue roan
Fox Hastings 1965 by Plenty Coup, g-son of Joe Hancock 0376183 chestnut
Heather Dividend 1974
1052111 brown
42 3 0 0 0 $ 0 Super Barrel Mare!
Jets Sabre 1970
0710869 bay

Chucker Blue Maid 1998
3740635 black
Homozygous for black
25% Blue Valentine

Heather Heller 1968
0564976 bay
Gooseberry 1973
0968815 red roan
Blue Valentine 1956
0097116 roan
H- 0.0 P- 1.0
Chucker Maid 1983
2077119 grullo
Fox Hastings 1965 by Plenty Coup, g-son of Joe Hancock 0376183 chestnut
Chuckkar Maid 45 1969
0685855 dun
Mandy's Dart 1957
0115141 dun
H- 0.0 P- 1.0
Chukkar Maid 1957
0106911 grullo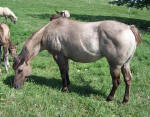 4288216 2002 grullo mare

SIRE side of pedigree
Blue Valentine 1956
0097116 roan
H- 0.0 P- 1.0 Race Get Money-earners. Performance Point Earner Sire. Famous for producing performers in rodeo and honest working ranch horses.

Red Man 1935
0001685 roan by Joe Hancock.
85 0 0 0 0 $ 0 H- 0.0 P- 2.0 NCHA money-earner, ROM Performance, '43 Race; '52 ROM. NCHA Get Money-earners, Race Get Money-earners, ROM Performance Sire, Race ROM Sire, Halter Point Earner Sire, Hall of Fame Sire, NCHA
Blues Kingfisher 1977
1304911 blue roan Bred by Hyde Merritt, WY. Sire of 70% colored foals
Beauty's Dream 1938
0001391 black
65 4 0 0 1 $ 0
Missus Robin 1966
0457329 chestnut

Reedart 1959
0113936 sorrel


Blue Yahooty Hancock 1996
3535274 grullo roan. 90% NFQHA. AQHA point-earning offspring. Foals in Europe, US. High %-age color producer.

Machero 1961
0181211 chestnut

White Mount 1959
0119940 dun
45 1 0 0 0 $ 0 H- 16.0 P- 0.0
Music Mount 1944
0005229 dun
H- 0.0 P- 7.0 Grand Champion in every halter class he ever entered. Superior Halter Sire, Superior Performance Sire, AQHA Champion Sire, Race Get Money-earners, ROM Performance Sire, Race ROM Sire, Pedigree, Foals' Achievements
Cutter Jackie 1982
1896595 dun

Smoky White 1955
0064635 dun

Jug's Babe 1971
0809653 bay 18.75% King P-234, but 43.5% King bloodlines
Here's How 1958
0087296 bay
H- 0.0 P- 11.0
Jug's Mary Joe 1958
0102686 bay (75% King P234 bloodlines)
DAM side of pedigree
Peppys Top Deck 1989
2892055 grullo

Peppy Sun Deck 1975
1105602 bay
H- 0.0 P- 1.0
NCHA $ earner, sire of NCHA $ earners
Peppy Plan 1992
3131062 grullo 2 y/o Colorado State Fair Halter Champion. 10 IBHA reining points. Sire of IBHA Top 10 World Reiner, Dun Factor ROM earner, Colorado State Fair Reining Champion--Open and Amateur
LA Plata Sunlight 1976
1183265 red dun

Expensive Ginger 1987
2622583 buckskin

Poco Smokey too 1980
1662804 dun Sire of Performance Pt earners
Peppy Marguarita 1999
3808109 grullo 98.6% NFQHA
Full sister to a 2002 IBHA Top 10 World Reiner, Dun Factor ROM earner, Colorado State Fair Reining Champion--Open and Amateur.
Expensive Style 1970
0780385 black

Peppy Sun Deck 1975
1105602 bay
H- 0.0 P- 1.0
NCHA COA. Sire of NCHA earner of over $7500.00.
Peppy San 1959
0114978 sorrel
H- 26.0 P- 180.0
NCHA World Champion, NCHA and AQHA Hall of Fame NCHA LTE-$49,478.40. '65 Superiro CUT; '63 AQHA Champ, '67 1st NCHA World Champ.; '67 1st High Pt CUT Stallion; '68 2nd NCHA Non-Pro O Finals; AQHA & NCHA Hall Of Fame
Peppy Sunrise 1991
3008462 black Dam of IBHA Top 10 World Reiner, Dun Factor ROM earner, Colorado State Fair Reining Champion--Open and Amateur
Upper Deck Lady 1969
0615669 bay
66 5 0 0 1 $ 81 Race $ earner, dam of Cutting $ earners
Miss Thirsty Pep 1979
1551348 bay

Mr Sir Pep 1962
0213269 sorrel Sire of World Champion, Sire of Cutting and Race money earners
MS Stylish Pep 1975
1128440 bay