Yahootys Amen
Sold...Congratulations to Greg and Sheila from Crawford, TX!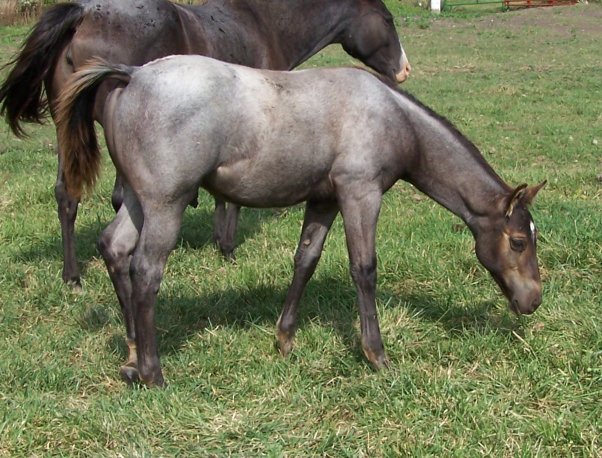 Very sun-faded face, but turning black again around muzzle.
At the end of every prayer comes "Amen."
"Rev's" sire, Blue Yahooty Hancock, was the answer to a prayer for us. We searched for two years for "Hootie," and when we found him, we weren't quite sure that he was the answer to our prayers. He was gangly and young, but looked to have a lot of promise. We took a chance and brought him home. It didn't take long to see that he truly was an answer to a prayer, as his foals started hitting the ground the next year.
"Rev" is Hootie's last foal...the end of our answered prayers.
There will be no more, and so the prayer is sadly over.
Amen.
His blue eye at birth indicates that he is probably also carrying a creme gene, so could produce buckskins (and palominos if he happens to not be homozygous for black).
His eyes are already brown, and will stay brown now.
| | |
| --- | --- |
| | Hootie's last colt is a true blue roan who also appears to carry a creme gene from his dam. If so, he'll produce a ton of exciting colors! |
| | Both of his parents are roans, so "Rev" could be homozygous for roan coloring. |
| | Both of his parents carried at least one black gene, so he could be homozygous for black pigment (and therefore would sire no sorrels or red roans or palominos if that is the case). |
Grullo Roan grandson of Blue Valentine

Red Man 1935 roan H- 0.0 P- 2.0


NCHA money-earner
ROM Performance, '43 Race; '52 ROM
NCHA Get Money-earners
Race Get Money-earners
ROM Performance Sire
Race ROM Sire
Halter Point Earner Sire
Hall of Fame Sire, NCHA

Joe Hancock 1923 brown
Hall of Fame, '92 AQHA Inductee
Race Get Money-earners
ROM Performance Sire
Race ROM Sire
Performance Point Earner Sire
Photo of Joe Hancock, another photo
Link to info about Joe Hancock
More Info

Blue Valentine 1956
blue roan H- 0.0 P- 1.0
Race Get Money-earners
Performance Point Earner Sire


Burnett Roan Mare
roan


Beauty's Dream 1938
black 65 4 0 0 1 $ 0

Valentine 1927
black


Sire's pedigree
Blues Kingfisher 1977
blue roan
Bred by Hyde Merritt, WY
Sire of 70% colored foals


Holcak's Beauty 1933
black


Reedart 1959
sorrel


Robin Reed 1949 by Leo
sorrel 100 42 12 9 4 $ 11,226
AQHA Champion Sire
Race ROM Sire
'53 Superior RC Horse
Halter Point Earner Sire

Missus Robin 1966
chestnut


Artemis 1949
sorrel 85 7 1 0 0 $ 511

Machero 1961
chestnut


Begger's Bar 1956
chestnut


Sweetwater 1952
chestnut


Music Mount 1944
dun P- 7.0 (cutting)
Grand Champion in every halter class he ever entered.
Superior Halter Sire
Superior Performance Sire
AQHA Champion Sire
Race Get Money-earners
ROM Performance Sire
Race ROM Sire
Pedigree
Foals' Achievements

Gold Mount 1940 dun
World Champion Sire, Race
AQHA Champion Sire
Race Get Money-earners
ROM Performance Sire
Race ROM Sire
Performance Point Earner Sire
Halter Point Earner Sire

White Mount 1959
dun H- 16.0

Pansy 1935
dun

Smoky White 1955
0064635 dun


Red Mickey 1946
bay


Dam's pedigree
Cutter Jackie 1982
grullo. 100% color producer of 12 foals


Helen White 1947 chestnut


Granddaughter of Peter McCue

Here's How 1958
bay H- 0.0 P- 11.0

Bartender 1940 sorrel
Performance Point Earner Sire
Halter Point Earner Sire

Jug's Babe 1971 bay
18.75% King P-234, but 43.5% King bloodlines


Strole's Mist 1955 bay


Granddaughter of King P-234

Jug's Mary Joe 1958
bay (75% King P234 bloodlines)


Black Jug 1947 black
Own son of King, AQHA Hall of Fame


Babe Cheshewalla 1939 brown


Full Sister to King P-234
SIRE side of pedigree
Colonel Freckles 1973
0911585 sorrel
H- 0.0 P- 3.0
NCHA money-earner, Performance Point , Earner, Perf Events: CUT; NCHA Earnings: $46,305; Stallion Offspring Record, World Champion Offspring, Reserve World Champion Offspring, Superior Performance Offspring, NRHA Money-earners, NCHA Money-earners, ROM Performance Offspring, Performance Point Earners, Halter Point Earners, Working Cow Horse Money-earners, NRCHA Money-earners. 2004 AQHA Hall of Fame Inductee.
Jewel's Leo Bars 1962 0206037 sorrel 55 2 0 1 0 $ 30 H- 3.0 P- 25.0 NCHA money-earner, COA, Race money-earner, ROM Performance, Performance Point Earner, Halter Point Earner, Total Points Earned: 28; Halter Points: 3; Perf Points: 25; NCHA Earnings: $6,037; Stallion Offspring Record, World Champion Offspring, TR, Jr. CUT, Reserve World Champion Offspring, AQHA & NCHA CUT, Superior Performance Offspring, SAH, WR, TR, HUS, WP, CUT, AQHA Reserve High Point Performance Offspring, CUT, NCHA Money-earners, ROM Performance Offspring, Performance Point Earners, Halter Point Earners
JR Freckles 1982
1852576 red roan
Christy Jay 1967
0473601 sorrel H- 3.0 P- 2.0 NCHA money-earner, Performance Point Earner, Halter Point Earner, NCHA Earnings: $569; Offspring Record; NRHA Money-earners, NCHA Money-earners, ROM Performance Offspring, Performance Point Earners, NRCHA Money-earners
Sandhill's Birdy 1974
1043868 blue roan
Go Salty Twist 1968
0569694 sorrel
JRs Buck 1992
3137601 dun roan P- 2.0 NCHA COA, AQHA point earner, Iowa Furutity Non-pro 1st place 3 year old, Iowa Futurity Open Reserve Champion as 6 y/o, Iowa Futurity Non-pro 1st as a 6 y/o, 1996 ABRA Open and Non-pro Reserve World Champion, 1998 ABRA Non-pro Reserve World Champion, 1999 ABRA World Show Open, 3rd place.
Sodak Blue Heels 1968
0571582 roan
Gay Bar King 1958
0104000 sorrel
75 4 1 0 0 $ 151 H- 13.0 P- 6.0 Stallion Show Record: NCHA money-earner, Race money-earner, ROM Performance, '67 O, Performance Point Earner, Halter Point Earner. Stallion Offspring Record: Reserve World Champion Offspring, Superior Halter Offspring, Superior Performance Offspring, AQHA Champion Offspring, NRHA Money-earners, NCHA Money-earners, Race Money-earners, ROM Performance Offspring, Race ROM Offspring, Halter Point Earners.
Three Bars 1940
T0065983 chestnut Hall of Fame, '89 AQHA Inductee. Stallion Offspring Record: World Champion Offspring, Race, Supreme Champion Offspring, Superior Halter Offspring, Superior Performance Offspring, Race, AQHA Champion Offspring, Race Money-earners, ROM Performance Offspring, Race ROM Offspring, Hall of Fame Offspring, AQHA & NSBA
Jill Gay Bar 1981
1724287 dun
Gay Widow 1950
0029057 sorrel by King P234 45 1 0 0 0 $ 0 H- 105.0 P- 16.0 Superior Halter, '54 O, AQHA Champion, '53 O, ROM Performance, '57 O
Performance Point Earner, Halter Point Earner, Total Points Earned: 121; Halter Points: 105; Perf Points: 16; SI: 45; Mare Offspring Record, NCHA Money-earners, Race Money-earners, ROM Performance Offspring, Race ROM Offspring, Performance Point Earners, Halter Point Earners
Jill Badger 1966
0431511 dun
Grey Badger III 1947 0020285 gray 75 4 0 1 1 $ 0 Stallion Show Record: ROM Performance, '49 RC, Stallion Offspring Record, Race Money-earners, ROM Performance Offspring, Halter Point Earners, AQHA Offspring Record, Total Points Earned: 206.5; Reg Foals: 173; Number Shown: 20; Point Earners: 18;
Missy Wimpy 1954 by Silver Wimpy (sire of Marion's Girl, 2x World Champion Cutting Horse and who is a leading maternal grandsire of AQHA Champions). 0058145 sorrel

DAM side of pedigree
Bright Bar 1954
0058946 brown
95 5 3 1 0 $ 4,421 H- 7.0 P- 0.0 Race money-earner, ROM Performance, '56 Race, Win Names: '56 1st NM Red Futurity - $2,803
Three Bars 1940
T0065983 chestnut
Hall of Fame, '89 AQHA Inductee. Stallion Offspring Record: World Champion Offspring, Race, Supreme Champion Offspring, Superior Halter Offspring, Superior Performance Offspring, Race, AQHA Champion Offspring, Race Money-earners, ROM Performance Offspring, Race ROM Offspring, Hall of Fame Offspring, AQHA & NSBA
Bright Win 1968
0663448 bay
H- 3.0 P- 0.0
Maddon's Bright Eyes 1946 0027000 bay
95 25 18 5 0 $ 16,577 H- 4.0 P- 0.0 Race money-earner, Halter Point Earner, Hall of Fame, '97 AQHA, Halter Points: 4; SI: 95; Race: $16,577; Wins: 18; Mare Offspring Record; Race Money-earners, Race ROM Offspring, Halter Point Earners
Miss Winna 1949
0036638 bay
85 55 14 9 8 $ 7,699
Just Again 1940
T0058772 bay
Miss Fleet Win 1981
1899754 brown
Chicaro Sue 1943 0002908 bay by Chicaro Bill, sire of 14 AQHA ROM earners
65 4 1 0 2 $ 0
Half sister to World Champion Chicado V.
Poco Robin 1953
0044284 bay
H- 25.0 P- 60.0
Superior Performance, '62 O CUT, AQHA Champion, '61 O, ROM Performance, '56 O
Performance Point Earner, Halter Point Earner, Total Points Earned: 85
Poco Bueno 1944
0003044 brown by King P234
H- 37.0 P- 8.0 AQHA Champion, '53, ROM Performance, '57, Performance Point Earner, Halter Point Earner, Hall of Fame, '90 AQHA Inductee, Total Points Earned: 45; Halter Points: 37; Perf Points: 8; Stallion Offspring Record, Superior Halter Offspring, Superior Performance Offspring, AQHA Champion Offspring, NCHA Money-earners, ROM Performance Offspring, Performance Point Earners, Halter Point Earners, Hall of Fame Offspring, NCHA
Robin Star Baby 1967
0508601 brown
Jeep W 1943
0013765 dun by Blackburn
Breeder: W. T. Waggoner AQHA Champion Offspring (multiple)
Superior Halter Offspring, Superior Performance offspring, ROM Arena offspring.
Fleeta Mark 1956
0066750 palomino
Trade Mark 1948
0027451 palomino
Fire Fly's Dolly 1949 0030185 palomino