Ima Golden Cherokee
SOLD! Congrats to Shandy in England!
"They are all here safe & sound!!! I'm delighted with all of them!! Cherokee is much prettier than her pics & is so friendly. They arrived in the dark & had to walk down the lane to their stables & were so sensible. The first thing they all did was eat!!" ~Shandy
1998 Grullo Mare, 15.2 hh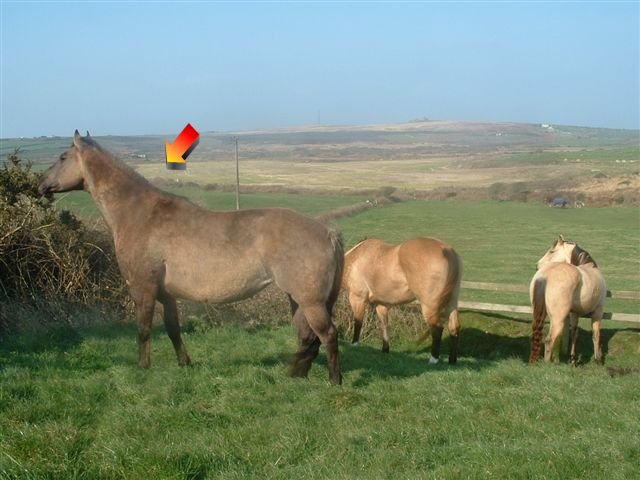 At her new home in England
Cherokee has a very nice, long shoulder, a deep heartgirth, and a low-set hock. Her first foal is one we're definitely keeping, and has a dished face, big eyes, and the lightest silver color of any grullo we've seen lately. And that says a lot, because we have had about 30 grullos!
Cherokee's grandsire, My Skip Vanzi has a Superior in halter, was a top 10 finisher in the AQHA World Show as a 3 year old, and has an ROM in halter. He was a PHBA World Champion to boot. Click his name in this paragraph to see more info about his winnings and his gets' winnings. Her sire was a producer of nearly 90% colored horses, and sired Rush To Be King, who sold as a 4-year-old gelding for $17,200 (see above). He probably sired more horses that sold well, but we haven't researched that yet (too many horses, too little time!). :-)
The thing I'd change about Cherokee is that she is sore on her front feet. At times, she's not very gimpy at all, but at times, she is very ouchy. I have not had her ultrasounded or x-rayed, but would suspect navicular syndrome or thin soles. I shod her front feet on 12/31/04, and could see definite improvement even as she walked away when I let her go. She takes much longer strides with her front feet with the shoes on. I didn't shoe her specially in any way...just normal keg shoes and a normal set. Not corrective methods at all. That kind of leads me to believe that she had tender soles or pedal osteitis (which this set of shoes could possibly fix). If you are willing to keep her front feet shod or at least well trimmed and shaped, I think she will stay serviceably sound for you to breed and raise some foals from.
In the pedigree below, click any underlined link to find out more about her ancestors.
SIRE side of pedigree
My Skip Ashwood 1976
1217736 palomino
H- 84.0 P- 12.0
Sure Skippa 1970
0698646 sorrel
by Skippa String
My Skip Vanzi 1981
1803536 palomino
H- 52.0 P- 0.0
PHBA World Champion. AQHA Superior. Sire of numerous ROM halter and performance, world qualifiers, and more.
Ashwood Sue 1960
0147849 palomino
Roan Vanzi 1975
1105799 red roan

Roan Flit 1971
0784811 red roan

Skips Golden Rush 1995
Rare Golden Dun Champagne Stallion producing over 80% Champagne, Dun, Buckskin and Palomino Foals


Macanita Bar 1969
0633176 sorrel
Watch Tyree 1977
1347123 buckskin
Full brother to
Watch Tyree Two
Watch Joe Jack 1970
chestnut H- 225.0 P- 201.0
by Two Eyed Jack
Ima Petite Two 1988
2747244 sorrel
25 halter points and pleasure points, according to Skips Golden Rush owner

Ima Tyree 1970
0638625 buckskin
Splash Petite 1977
1318960 sorrel

Splash Bar 1963
0282642 sorrel
H- 40.0 P- 12.0
Tuffs Doll Cash 1971
0813505 bay

DAM side of pedigree
Devil Bar Pal 1974
1046594 blue roan
42 2 0 0 0 $ 0
Sea Bar 1955
0064284 sorrel
Yellow Bar Pal 1977
1349531 blue roan

Miss 3 John 1966
0507085 roan
Yellow Tippy 1964
0427441 dun
Snip Snip 1960
0138536 bay
Bar Zan Blue 1992
3091265 blue roan

Mar Echo 1959
0123535 brown
Classy Son 1969
0613190 dun
Classy Jr 1960
0131440 sorrel
H- 2.0 P- 0.0
Zansabar 1976
1258666 grullo

Centa Arrow 1961
0157426 dun
Carol's Princess 1967
0499143 sorrel
Frog W 1946
0012132 sorrel
75 5 0 0 2 $ 20 H- 4.0 P- 0.0
Tona's Queen 1954
0168145 bay

Cherokee Information
| | |
| --- | --- |
| | Green broke, but we are selling her as a broodmare |
| | Very nice, long shoulder |
| | Straight legs (She has some bumps on back pasterns, though) |
| | Fairly lame on her front feet periodically. At times, she's not very gimpy at all, but at times, she is very ouchy. I have not had her ultrasounded or x-rayed, but would suspect thin soles, navicular syndrome or arthritis. I shod her front feet on 12/31/04, and could see definite improvement even as she walked away when I let her go. She takes much longer strides with her front feet with the shoes on, and it has only been 2 days at the time I am writing this. I didn't shoe her specially in any way...just normal keg shoes and a normal set. Not corrective methods at all. That kind of leads me to believe that she had tender soles or pedal osteitis. |
| | Large scar on her chest from a fence wound before we bought her. This wound could be partially why she has become tender on her front feet, though we are not sure. |
| | Great hoof wall and good shape to her hooves |
| | No white |
| | Show pedigree top, foundation and speed on bottom |
| | Nice short head and super clean and long neck |
| | Very likely that she carries the creme gene, and would therefore produce palominos and buckskins in addition to duns, grullas, and red duns (she has dapples, which are a characteristic of the creme gene) |
| | First foal's web page...click here. Second foal, click here. BOTH GRULLOS! |
| | She foaled at 11 months plus 8 days on the calendar with her first foal, and within a couple days of that with her second foal. Easy to predict, easy to handle, and a great milker. |