Im Docs Huckleberry
2011 Grullo Roan Colt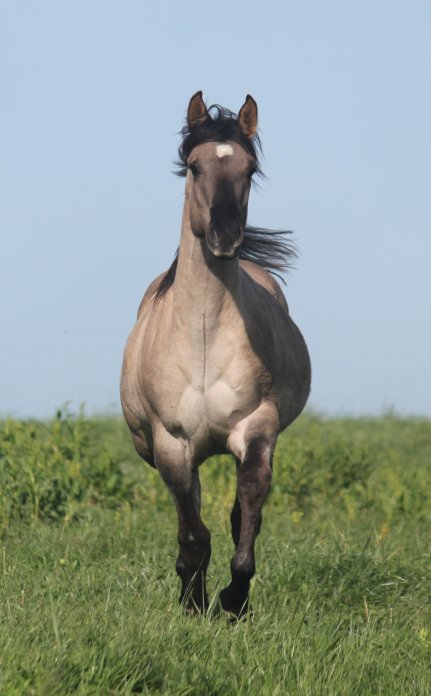 Born May 1, 2011

Grullo roan colt, star, 1 white coronet

Sire: Crowheart WYO Boy, ~30% Blue Valentine, Hancock-bred grullo roan stallion

Dam: Margarita Haidaway, by Midnight Haidaway (NCHA $12,000+)

Working/cow bloodlines all the way through!

I really second-guessed myself for breeding this cutting-bred mare to my Hancock-bred stallion. But I just had a feeling that something really special would result, and it looks like it happened! THIS is one eye-appealing colt!

He was sold/reserved in the fall/winter, but the buyers did not take him. I had knee surgery before they showed up to get him, and couldn't help them load him or work with him for a couple months prior. I'll be honest and will say that the loading methods they tried were very ineffective, and I probably won't be able to let him go until mid/late May when I'm released from my crutches and can work at loading with him again. Update May 17th: He loaded 30 seconds after approaching the trailer today, which is the first time he has seen a trailer since he wouldn't load for the previous people.

Visit our For Sale page for pricing/sale status, most likely after he is a month or more old. SOLD
Extended Pedigree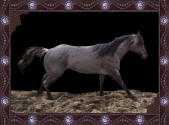 4587431 2004 grullo stallion
29.69% Blue Valentine
Crowheart Wyo Boy

4587431 2004 grullo stallion

29.69% Blue Valentine

SIRE side of pedigree
Leo Hancock Hayes 1980 1683157 blue roan
Blue Valentine 1956
0097116 roan
H- 0.0 P- 1.0
Wyo Blue Bonnet 1992 3135976 grullo
Doll 01 1970 by Rip Rip by Leo
0717186 sorrel
Mandys Sue Hawk 1981
1763699 buckskin
Wyo Kid Curry 1976 by Rip Rip by Leo, g-son BV 1281044 dun

Wyo O Blue 1998 3740633 "Wyatt" Dun roan.
34.38% Blue Valentine

Blue Hawk 22 1972 by Plenty Coup, g-son of Joe Hancock
0841841 dun
Plenty Try 1982
1894414 blue roan
Gooseberry 1973 by Blue Valentine 0968815 red roan
Bonnie O Blue 1991
3036467 red roan
Heather Dividend 1974
1052111 brown
42 3 0 0 0 $ 0 Super Barrel Mare!
Bonny 02 1970
0723400 blue roan
Blue Valentine 1956
0097116 roan
H- 0.0 P- 1.0
Bonnie Owens 11 1956
0061706 bay
DAM side of pedigree
Gooseberry 1973
0968815 red roan
Blue Valentine 1956
0097116 roan
H- 0.0 P- 1.0
Plenty Try 1982
1894414 blue roan
Fox Hastings 1965 by Plenty Coup, g-son of Joe Hancock 0376183 chestnut
Heather Dividend 1974
1052111 brown
42 3 0 0 0 $ 0 Super Barrel Mare!
Jets Sabre 1970
0710869 bay

Chucker Blue Maid 1998
3740635 black
Homozygous for black
25% Blue Valentine

Heather Heller 1968
0564976 bay
Gooseberry 1973
0968815 red roan
Blue Valentine 1956
0097116 roan
H- 0.0 P- 1.0
Chucker Maid 1983
2077119 grullo
Fox Hastings 1965 by Plenty Coup, g-son of Joe Hancock 0376183 chestnut
Chuckkar Maid 45 1969
0685855 dun
Mandy's Dart 1957
0115141 dun
H- 0.0 P- 1.0
Chukkar Maid 1957
0106911 grullo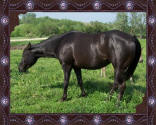 SIRE side of pedigree
Peppy San Badger 1974 1089924 sorrel H- 0.0 P- 41.0 World Champion, NCHA CUT 3 times Reserve World Champion, ' 80 NCHA Open. NCHA money-earner, Bronze Silver Gold Platinu. ROM Performance, '78 O, Performance Point Earner, Hall of Fame, NCHA, Total Points Earned: 41; Perf Points: 41; NCHA Earnings: $172,711; Stallion Offspring Record, World Champion Offspring, AQHA & NRCHA SB, Reserve World Champion Offspring, AQHA & NCHA, TP, RN, Jr WCH, CUT, WCH, Top Ten World Show Offspring, Superior Performance Offspring, CUT, RN, AQHA High Point Performance Offspring, RN, CUT, WCH, INTL CUT, INTL WCH; AQHA Reserve High Point Performance Offspring, NRHA Money-earners, NCHA Money-earners, ROM Halter Offspring, ROM Performance Offspring, Performance Point Earners, Halter Point Earners, Working Cow Horse Money-earners, NRHA Offspr LTE: $394,531 Equi-Stat Offspring LTE CUT Earnings: $23,912,655
Mr San Peppy 1968 0548845 sorrel H- 0.0 P- 161.0 World Champion, '76 O AQHA, '74 & '76 O NCHA, Top Ten World Show, '73 5th NCHA O; '77 4th NCHA O, Superior Performance, '75 O CUT, AQHA High Point Performance Horse, '76 O CUT, NCHA money-earner, COA Bronze, Silver, Gold, ROM Performance, Performance Point Earner, Hall of Fame, NCHA, Total Points Earned: 161; Perf Points: 161; NCHA Earnings: $107,866; Stallion Offspring Record, World Champion Offspring, Reserve World Champion Offspring, Top Ten World Show Offspring, Superior Performance Offspring, AQHA High Point Performance Offspring, NRHA Money-earners, NCHA Money-earners, ROM Performance Offspring, Performance Point Earners, Halter Point Earners, Working Cow Horse Money-earners, Hall of Fame Offspring, NCHA, NRCHA Money-earners, Offspring LTE CUT Earnings: $2,358,860
Haidas Little Pep 1980 1643650 chestnut P- 10.0 Reserve World Champion, '86 O NCHA, NCHA money-earner, COA Bronze Silver Gold Platinum, ROM Performance, '86 O, NCHA Cutting Futurity, '83 2nd, NCHA Derby, '84 15th, NCHA Finals, '86 1st, Total Points Earned: 10; Perf Points: 10; , NCHA Earnings: $425,000; , Stallion Offspring Record, World Champion Offspring, Reserve World Champion Offspring, Top Ten World Show Offspring, Superior Performance Offspring, AQHA High Point Performance Offspring, NRHA Money-earners, NCHA Money-earners, ROM Performance Offspring, Performance Point Earners, Halter Point Earners, Quarter Horse Congress Get Winners, Working Cow Horse Money-earners
Sugar Badger 1959
0183512 sorrel Mare Offspring Record, Superior Halter Offspring, Superior Performance Offspring, AQHA Champion Offspring, NCHA Money-earners, NCHA LTE: $188,353
Doc's Haida 1969 0646770 bay H- 17.0 P- 97.0 World Champion, '76 Y CUT; '77 Y CUT; '78 Y CUT; '79 Y WP, Top Ten World Show, '79 3rd Y CUT, Superior Performance, '79 O CUT, AQHA Champion, '80 O, NCHA money-earner, COA, Bronze, ROM Performance, '74 O, NCHA Finals, '74 2nd O Non-Pro, Halter Points: 17; Perf Points: 97; NCHA Earnings: $67,306;Mare Offspring Record, Reserve World Champion Offspring, NCHA, NCHA Money-earners, ROM Performance Offspring, Performance Point Earners, NCHA Derby Offspring, NCHA Finals Offspring, NCHA Super Stakes Offspring, Offspring LTE CUT Earnings: $940,956
Doc Bar 1956 0076136 chestnut 75 4 0 0 1 $ 95 H- 36.0 P- 0.0 Halter Point Earner, Hall of Fame, AQHA 1993 Inductee AQHA 1993 inductee, Total Points Earned: 36; Halter Points: 36; SI: 75; Race: $95; Stallion Offspring Record, World Champion Offspring, WP, CUT, WCH, HUS, Reserve World Champion Offspring, CUT, Top Ten World Show Offspring, Superior Halter Offspring, AQHA High Point Halter Offspring, CUT, Superior Performance Offspring, AQHA Champion Offspring, ROM Halter Offspring
ROM Performance Offspring, Performance Point Earners, Hall of Fame Offspring, NCHA & AQHA. Offspring earned $1,178,484
in cutting.


Midnight Haidaway 1993 3183959 black
Earner of over $12,000 earnings in cutting competitions. Son of Reserve World Champion, Haidas Little Pep.

Teresa Tivio 1954
0057627 brown World Champion Offspring, Reserve World Champion Offspring, Superior Performance Offspring, AQHA Champion Offspring, NRHA Money-earners, ROM Performance Offspring, Performance Point Earners. Halter Point Earners, NCHA LTE: $215,154
Doc O'Lena 1967
0493297 bay
H- 0.0 P- 2.0 NCHA money-earner, COA, Performance Point Earner, Hall of Fame, '97 AQHA Inductee, Total Points Earned: 2; Perf Points: 2; Perf Events: CUT; NCHA Earnings: $21,992; Stallion Offspring Record, World Champion Offspring, Reserve World Champion Offspring
Superior Performance Offspring, AQHA Champion Offspring, NRHA Money-earners, NCHA Money-earners, ROM Halter Offspring, ROM Performance Offspring, Performance Point Earners, Halter Point Earners, Working Cow Horse Money-earners, Hall of Fame Offspring, NCHA, NRCHA Money-earners
NRHA Offspring earnings: $322,03. Offspring Cutting Earnings: $14,736,396
Doc Bar 1956 0076136 chestnut 75 4 0 0 1 $ 95 H- 36.0 P- 0.0 Halter Point Earner, Hall of Fame, AQHA 1993 Inductee AQHA 1993 inductee, Total Points Earned: 36; Halter Points: 36; SI: 75; Race: $95; Stallion Offspring Record, World Champion Offspring, WP, CUT, WCH, HUS, Reserve World Champion Offspring, CUT, Top Ten World Show Offspring, Superior Halter Offspring, AQHA High Point Halter Offspring, CUT, Superior Performance Offspring, AQHA Champion Offspring, ROM Halter Offspring
ROM Performance Offspring, Performance Point Earners, Hall of Fame Offspring, NCHA & AQHA. Offspring earned $1,178,484
in cutting.
Shanda Lena 1974
1075943 bay Producer of earners of $84,002.47 NCHA, $11,765.22 NRHA, earners of 27 AQHA performance points and a performance ROM.
Poco Lena 1949 0030475 bay H- 174.0 P- 671.0 Top Ten World Show, '53 4th NCHA World Champion; '54 2nd NCHA World Champion; '55 2nd NCHA World Champion; '56 4th NCHA World Champion; '57 5th NCHA World Champion; '58 5th NCHA World Champion; '59 2nd NCHA World Champion; '60 2nd NCHA World Champion; Superior Halter, Open, Superior Performance, O CUT, AQHA Champion, Open, NCHA money-earner, COA, Bronze, Silver, Hall of Fame, AQHA & NCHA, Total Points Earned: 845; Halter Points: 174; Perf Points: 671; NCHA Earnings: $99,820; Mare Offspring Record, Reserve World Champion Offspring, Superior Performance Offspring, NCHA Money-earners, ROM Performance Offspring
Hall of Fame Offspring, AQHA & NCHA NCHA LTE: $107,140
Hop Two 1965
0422982 sorrel H- 0.0 P- 1.0 Performance point earner.
Leo Bob 1952 0041837 sorrel 95 24 3 4 3 $ 5,687 H- 5.0 P- 0.0 Race money-earner, ROM Performance, '54 Race, Halter Point Earner, Halter Points: 5; SI: 95; Race: $5,687; Wins: 3; Stallion Offspring Record, AQHA Champion Offspring, NCHA Money-earners, Race Money-earners, ROM Performance Offspring. Race ROM Offspring, Halter Point Earners
Hoppen 1955 0083877 bay H- 0.0 P- 514.0 World Champion, '63 NCHA, Superior Performance, '61 O CUT, AQHA High Point Performance Horse, '63 O CUT, NCHA money-earner, COA, Bronze, Silver, ROM Performance, '60 O, Hall of Fame, NCHA, Perf Points: 514; NCHA Earnings: $45,375; Mare Offspring Record, NCHA Money-earners, Performance Point Earners
DAM side of pedigree
Peppys Top Deck 1989
2892055 grullo
Peppy Sun Deck 1975
1105602 bay H- 0.0 P- 1.0 NCHA $ earner, sire of NCHA $ earners
Peppy Plan 1992 3131062 grullo 2 y/o Colorado State Fair Halter Champion. 10 IBHA reining points.
Sire of IBHA Top 10 World Reiner, Dun Factor ROM earner, Colorado State Fair Reining Champion--Open and Amateur
LA Plata Sunlight 1976
1183265 red dun
Expensive Ginger 1987
2622583 buckskin
Poco Smokey Too 1980
1662804 dun Sire of Performance Pt earners

3808109 grullo. Full sister to IBHA Top 10 World Reiner, Dun Factor ROM earner, Colorado State Fair Reining Champion--Open and Amateur

Expensive Style 1970
0780385 black
Peppy Sun Deck 1975
1105602 bay
H- 0.0 P- 1.0
Peppy San 1959 0114978 sorrel H- 26.0 P- 180.0 NCHA World Champion, NCHA and AQHA Hall of Fame
Peppy Sunrise 1991 3008462 black Dam of IBHA Top 10 World Reiner, Dun Factor ROM earner, Colorado State Fair Reining Champion--Open and Amateur
Upper Deck Lady 1969
0615669 bay 66 5 0 0 1 $ 81 Race $ earner, dam of Cutting $ earners
Miss Thirsty Pep 1979
1551348 bay
Mr Sir Pep 1962 0213269 sorrel Sire of World Champion, Sire of Cutting and Race money earners
MS Stylish Pep 1975
1128440 bay
Abbreviated Pedigree
2011 Colt

Crowheart WYO Boy
Grullo Roan

Wyo O Blue Dun/Grullo Roan, 34% Blue Valentine
WYO Blue Bonnet blue roan, by Leo Hancock Hayes
Bonnie O Blue, roan, gdtr of Blue Valentine
Chucker Blue Maid, homozygous black
Plenty Try blue roan, by Blue Valentine
Chucker Maid, grullo

Margarita Haidaway
Black

Midnight Haidaway black
Earner of over $12,000 in cutting competitions.
Haidas Little Pep P- 10.0 Reserve World Champion, NCHA, NCHA money-earner, COA Bronze Silver Gold Platinum, ROM
Shanda Lena Producer of earners of $84,002.47 NCHA, $11,765.22 NRHA,

Peppy Marguarita grullo. Full sister to IBHA Top 10 World Reiner, Colorado State Fair Reining Champion--Open and Amateur

Peppy Plan grullo 2 y/o Colorado State Fair Halter Champion. 10 IBHA reining points.
Peppy Sunrise black Dam of IBHA Top 10 World Reiner, Colorado State Fair Reining Champion
Photos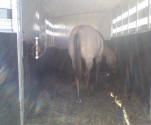 Huck hopped into the trailer after 30 seconds of deliberation on May 17th, the first time he had seen a trailer since he wouldn't load for someone else in March (I had just had knee surgery, and couldn't help). He had already been fed, and left his feed that was outside to check out a flake of hay and a few handfuls of grain inside. Maybe it tastes better when it's inside a trailer?
This page last updated 04/21/13
If you notice this date being 2 years or older, please let us know that we need to check out this page!