Freezin Kold King
New! $500 off if you buy and pay in full by 5 pm Thursday October 2, 2008!
We have found a trailer we want to buy, but only have until Thursday to buy it. After that, we'll be looking again, and won't be looking for the "fast cash" that we are for this trailer.
2006 Black Filly
"Freeze"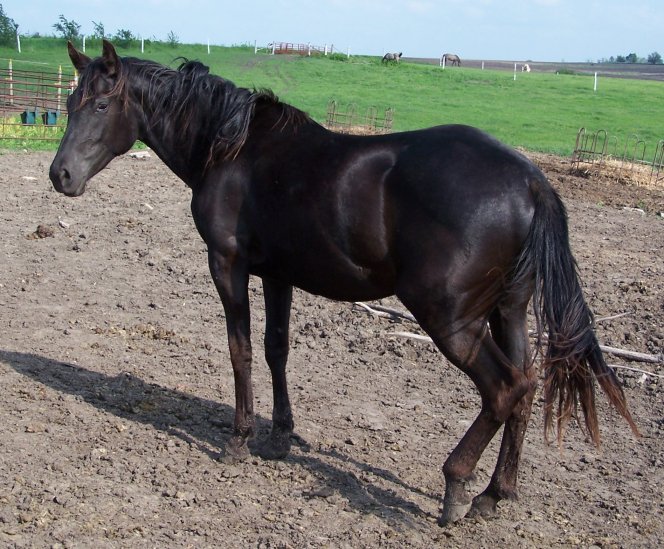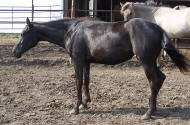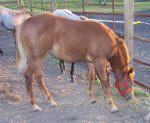 Full sister from 2005
Click photo to see just how big her hip and how little her head are!
| | |
| --- | --- |
| | Born May 26, 2006 |
| | Sire had King P234 on his papers twice, and dam goes back to King more than once |
| | High NFQHA percentage |
| | Both parents grullo |
| | Ee aa and nn for cream |
| | Freeze has a small hernia that has nearly closed all the way. It is smaller than one fingertip. We planned to have it fixed this spring/summer, but our vet said his experience with tiny hernias was that is would be better to leave it alone. He is going to look at it this fall when he's here for coggins/health papers. We have owned several generations of her dam's side, and have had no hernias from these lines. We contacted Freeze's sire's owner, and none of his stallion's foals have had hernias except Freeze, so this was apparently caused during her birth and should not be genetic. |
| | Visit our Sale page for pricing information. |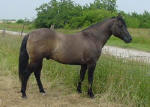 SIRE side of pedigree
Hollywood Gold 1940
0002220 dun
Superior Performance Offspring, AQHA Champion Offspring, NCHA Money-earners, ROM Performance Offspring, Performance Point Earners
Halter Point Earners, Hall of Fame Offspring, NCHA. Sire of 17 Superior, COA, and/or World Champion cutting horses, 2 NCHA Hall of Fame horses, and earners of 2,840.5 points.!
Gold Rush 1936
0000457 palomino
Stallion Offspring Record: Superior Performance Offspring, AQHA High Point Performance Offspring, ROM Performance Offspring, Performance Point Earners, Halter Point Earners
Hollywood Bill 1959
0107906 palomino
H- 0.0 P- 131.0
131 Perf. Pts.; $4,714.51-NCHA, '63 Superior CUT
Triangle Lady 17 1934
0000438 dun
Miss Jo Kenney 1946
0045775 black
Joe Barrett 1938
0001539 chestnut
Halter point earner sire
Hollywood At Dawn 1977
1343213 grullo
(I believe he was an NCHA $ earner, but need to check that for sure)
James Kenney Mare
U0072624 n/a
King 1932 0000234 bay
Hall of Fame, '89 AQHA Inductee, Stallion Offspring Record, Superior Halter Offspring, Superior Performance Offspring, AQHA Champion Offspring, Race Money-earners, ROM Performance Offspring, Performance Point Earners, Halter Point Earners, Hall of Fame Offspring, AQHA & NRHA
Zantanon U0081745 n/a
ROM Performance Offspring, Race ROM Offspring, Performance Point Earners, Hall of Fame Offspring, AQHA
Queen Dawn 1955
0055164 bay
1 0 0 0 $ 0 H- 11.0 P- 0.0
Full sister to Hank H, Booger H, Squaw H and Joe Hank (AQHA champs/superiors, etc.)
Jabalina
U0072570 n/a
Queen H 1936
0001372 chestnut
Dam of 4 AQHA ROM and/or Champions. Granddam of Harlan and Gold King Bailey.
Dan 1
U0070045 n/a
Nail Quarter Mare
U0076897 n/a

DAM side of pedigree
King 1932, 0000234 bay Hall of Fame, '89 AQHA Inductee, Stallion Offspring Record, Superior Halter Offspring, Superior Performance Offspring, AQHA Champion Offspring, Race Money-earners, ROM Performance Offspring, Performance Point Earners, Halter Point Earners, Hall of Fame Offspring, AQHA & NRHA
Zantanon
U0081745 n/a
ROM Performance Offspring, Race ROM Offspring, Performance Point Earners, Hall of Fame Offspring, AQHA
Continental King 1958
0081640 black
H- 0.0 P- 72.5
Superior Performance, '66 RN, NCHA money-earner, ROM Performance, '64 O, Performance Point Earner, Hall of Fame, '88 NRHA Inductee, Total Points Earned: 72.5; Perf Points: 72.5; Perf Events: RN; NCHA Earnings: $990; Stallion Offspring Record: Superior Performance Offspring, NRHA Money-earners, NCHA Money-earners, $7,675.13, ROM Performance Offspring, Performance Point Earners, Halter Point Earners
Jabalina
U0072570 n/a
Sue Hunt 1942
0001972 chestnut
San Siemon 1934
0001810 chestnut
NCHA Money-earners, Race Money-earners, ROM Performance Offspring,
Race ROM Offspring, Performance Point Earners, Halter Point Earners
Kingsleo Gal 1980
1611298 sorrel

Little Sue 1929
0001811 sorrel
Firebrand Reed 1949
0025124 bay
85 31 4 5 5 $ 2,469
FULL brother to Leo, and AQHA Hall of Fame horse.
Joe Reed II 1936
0000985 chestnut
SI 85. Sire of Leo.
World Champion, '42 RC. ROM Performance, '43 RC. Hall of Fame, '94 AQHA inductee, SI: 85; Wins: 1; Stallion Offspring Record, Superior Performance Offspring, RC, AQHA Champion Offspring, NCHA Money-earners
Race Money-earners, ROM Performance Offspring, Race ROM Offspring, Performance Point Earners, Halter Point Earners, Hall of Fame Offspring, AQHA, NSBA Money-earners
Ruby Brand 1961
0174769 sorrel
Little Fanny 1937
0001572 bay
Dam of Leo, AQHA Hall of Fame horse.
Miss Hippy 1952
0046766 sorrel
One Eyed Hippy 1941
0007518 chestnut
Tillie J 1938
0003343 sorrel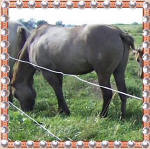 Joe Hancock 1923 brown
Hall of Fame, '92 AQHA Inductee, Race Get Money-earners, ROM Performance Sire, Race ROM Sire, Performance Point Earner Sire, Photo of Joe Hancock, another photo, Link to info about Joe Hancock, More Info
Red Man 1935 roan H- 0.0 P- 2.0


NCHA money-earner, ROM Performance, '43 Race; '52 ROM, NCHA Get Money-earners, Race Get Money-earners, ROM Performance Sire, Race ROM Sire, Halter Point Earner Sire, Hall of Fame Sire, NCHA
Blue Valentine 1956
blue roan H- 0.0 P- 1.0
Race Get Money-earners, Performance Point Earner Sire, Famous producer of working cow horses and roping horses
Burnett Roan Mare
Valentine
Black
Blues Kingfisher 1977
blue roan, Bred by Hyde Merritt, WY, Sire of 70% colored foals
Beauty's Dream 1938
black 65 4 0 0 1 $ 0
Holcak's Beauty
Black
Robin Reed 1949 by Leo
sorrel 100 42 12 9 4 $ 11,226 , AQHA Champion Sire, Race ROM Sire, '53 Superior RC Horse, Halter Point Earner Sire
Reedart
Sorrel
Missus Robin
Chestnut
Artemis 1949
sorrel 85 7 1 0 0 $ 511

Blue Yahooty Hancock
Grullo Roan
90% color producer. Trained for ranch roping, but injured and therefore unshown.
Beggar's Bar
Chestnut
Machero
Chestnut
Sweetwater
Chestnut
Gold Mount 1940 dun
World Champion Sire, Race, AQHA Champion Sire, Race Get Money-earners, ROM Performance Sire, Race ROM Sire, Performance Point Earner Sire, Halter Point Earner Sire
Music Mount 1944
dun P- 7.0

(cutting)


Grand Champion in every halter class he ever entered. Superior Halter Sire, Superior Performance Sire, AQHA Champion Sire, Race Get Money-earners, ROM Performance Sire, Race ROM Sire,

Pedigree
Foals' Achievements
White Mount
Dun H-16
Pansy
Dun
Cutter Jackie
Grullo
100% Color producer
Red Mickey
Bay
Smoky White
Dun
Helen White
Chestnut (g-dtr Peter McCue)
Bartender 1940 sorrel
Performance Point Earner Sire
Halter Point Earner Sire
Here's How
Bay P-11
Jug's Babe
Bay
Strole's Mist
Bay (g-dtr King P234)
Black Jug
Black (by King P234)
Jug's Mary Joe
Bay
Babe Cheshewalla
Brown (full sister-King)

Buck Tommy
Dun H-52, P-5
Pretty Boy Buck
Dun
Blutcher Buck
Grullo
JS Peggy
Grullo
Hobo Reed
Sorrel P-.5
Pretty Buck Zeb
Grullo. 100% dun/grullo producer, 100% foundation. Sire of AQHA, ABRA, and IBHA point earners. Zeb was roped off of locally, but not shown AQHA. Full brother was 3rd at AQHA World Show in A. Team Penning, and earned NCHA COA.
Jack's Fancy
Bay
Pepper ByRemountStud
Buck Tommy
Dun H-52, P-5
Pretty Boy Buck
Dun

Baileys Badland Buck
Palomino Dun with two grullo parents
Miss Mary Blue
Grullo
JS Peggy
Grullo
Hobo Reed
Sorrel, P-.5
Judy Patterson
Sorrel
Patterson's Judy
Sorrel
Skip Comet by Skippers King
Sorrel
Skip Badlands
Sorrel
Badlands Caro
Sorrel H-12
Aces Full
Bay
Bar Caro
Chestnut
Miss Iowa Sun Glo
Grullo
94%FQHR
Stereo Bars
Sorrel
Stereo Sorrel
Sorrel H-1
Poco Dun by Poco Bueno
Dun H-2 P-3
Poco Eleven
Dun P-2
Poco Sun Glo
Buckskin Dun
Miss Casey
Sorrel
Rusty Peanut
Dun H-1
Rusty's Hobo
Bay
Bronze Buckles
Bay