Red Dun Roan Filly
Sold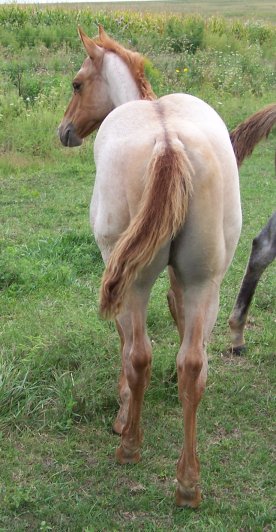 This filly will look red roan in the summer once she sheds off, and red dun in the winter.
i.e. She will never look like a plain sorrel, as most red roans do in the winter!
Click thumbnails above to see her photos at full size.
| | |
| --- | --- |
| | Born 5/29/2005 |
| | This is a SWEET-dispositioned filly who won't eat grain if a human is around...she'd rather be getting some scratching and pats than eating. To get photos of her, I have to shoo her away and snap the pictures quickly. Luckily, she is gentle and not pushy at all. |
| | "Dipper" is by a grullo roan (blue roan + dun factor) stallion and is out of a blue roan mare, and she's a dandy! |
| | In the summer, she should look red roan (red head, legs, mane and tail but silvery-roan body), but in the winter she will look like a red dun if in a climate where she gets a winter coat. |
| | Dipper ought to be 15.1 to 15.2 hh when mature, though I look for her at the upper end of that scale. |
| | No white feet, and could be homozygous for roaning in case you're thinking of breeding her after showing and winning in foundation shows, 4-H, rodeo, etc. She is "aa" for the agouti allele, so will throw blue roans, blacks, and grullos 100% of the time when bred to a homozygous black blue roan, black, or grullo. |
| | Dipper's sire has been shown in foundation shows VERY successfully, earning points in Ranch Cutting, Handy Ranch (Trail), Ranch Pleasure, Team Sorting, and Working Ranch Horse. |
| | Last dewormed 10/8/2005 with Ivermectin. West Nile and 4-way shots given twice in August and September. |
| | See www.grullablue.com/sale.htm for pricing information. |
Sire's Pedigree: WYO Blue Chips

Note from early 2005:
"Wyo Blue Chips was named 2004 Nebraska Affiliate High Point Stallion. These points were accumulated at the 3 Nebraska shows adding both Conformation and Performance points. To date he has stood Grand Champion Aged Stallion 5 times in Nebraska, Kansas and Colorado. He has also stood Reserve Grand Champion 3 times. He has accumulated over 20 Conformation Points (Halter). In performance he has earned over 40 total performance points in Ranch Cutting, Handy Ranch (trail), Ranch Pleasure, Working Ranch (COW) Horse and Team Sorting."
I haven't done any pedigree research on "Chip," but if you know Hancock, ranch, and roping horse breeding, you'll recognize a TON of these names!
SIRE side of pedigree
Blue Valentine 1956
0097116 roan

Red Man 1935
0001685 roan

Leo Hancock Hayes 1980
1683157 blue roan

Beauty's Dream 1938
0001391 black

Doll 01 1970
0717186 sorrel

Rip Rip 1961
0157299 sorrel

Wyo Blue Bonnet 1992 3135976 grullo roan
Zaid a Reed 1964
0407529 sorrel

Wyo Kid Curry 1976
1281044 dun

Rip Rip 1961
0157299 sorrel

Mandys Sue Hawk 1981
1763699 buckskin

Hydel Girl 1962
0239464 dun

Blue Hawk 22 1972
0841841 dun

Plenty Coup 1955
0059259 dun

Blue Hawk 11 1963
0386787 dun


DAM side of pedigree
Gooseberry 1973
0968815 red roan

Blue Valentine 1956
0097116 roan

Plenty Try 1982
1894414 blue roan

Fox Hastings 1965
0376183 chestnut

Heather Dividend 1974
1052111 brown

Jets Sabre 1970
0710869 bay

Chuckkar Blue 1988
2756129 blue roan

Heather Heller 1968
0564976 bay

Mandy's Dart 1957
0115141 dun

Dart Bar 1953
0064254 sorrel

Chuckkar Maid 45 1969
0685855 dun

Mandy II 1943
0004975 dun

Chukkar Maid 1957
0106911 grullo

Texas Blue Bonnet 1939
0001141 grullo

Colleen More 1952
0057776 sorrel

Dam: Silver Cake Bar
3849214 1999 blue roan mare



Photo taken near her due date with her first foal...very pregnant!

SIRE side of pedigree
Jackie Bee 1962 gray
Stallion Offspring Record: World Champion Offspring. Reserve World Champion Offspring. Superior Halter Offspring. Superior Performance Offspring. AQHA Champion Offspring. ROM Performance Offspring. Halter Point EarnersPerformance Point Earners. AQHA Offspring Record. Total Points Earned: 7,879.5; Reg Foals: 1,009; Number Shown: 268; Point Earners: 197; AQHA IF: $579; Halter Points Earned: 3,913.5; Halter Point Earners: 168; Superior Halter Awards: 12; Performance Points Earned: 3,966; Performance Point Earners: 222; Performance ROMS: 91; Superior Performance Awards: 8; AQHA Champions: 16; Total Superior Awards: 20; Total ROM's: 91; World Championships: 3; Res World Championships: 4; High Point Wins: 3; Sire of Tee Jay Roman.
Jimmy Mac Bee 1958
0092825 dun
H- 1.0 P- 0.0 Stallion Offspring Record: Reserve World Champion Offspring. Superior Halter Offspring. Superior Performance Offspring. AQHA Champion Offspring. ROM Performance Offspring. Halter Point Earners. Performance Point Earners. AQHA Offspring Record. Total Points Earned: 2,932; Reg Foals: 347; Number Shown: 80; Point Earners: 55; Halter Points Earned: 1,079; Halter Point Earners: 49; Superior Halter Awards: 4; Performance Points Earned: 1,853; Performance Point Earners: 57; Performance ROMS: 29; Superior Performance Awards: 10; AQHA Champions: 12; Total Superior Awards: 14; Total ROM's: 29; Res World Championships: 1;
Tee Jay Super Jack 1974 0998246 gray
H- 2.0 P- 0.0 World Champion Offspring. Reserve World Champion Offspring. Superior Performance Offspring. AQHA High Point Performance Offspring. AQHA Champion Offspring. Quarter Horse Congress Get Winners
ROM Halter Offspring. ROM Performance Offspring. NRHA Money-earners. AQHA Offspring Record: Total Points Earned: 1,987.5; Reg Foals: 147; Number Shown: 36; Point Earners: 23; Halter Points Earned: 199; Performance Points Earned: 1,788.5; Performance ROMS: 13; Superior Performance Awards: 10; AQHA Champions: 2; Total ROM's: 14; World Championships: 3; Res World Championships: 2; NRHA Offspr LTE: $24,954. NRHA Offspr Avg Earnings: $24,954
Outstanding Offspring: How D Amos, AQHYA World Champion Equitation Horse, Versatility Champion, How D Mae Bee, World Champion Jr. RN, Sr. RN; Res. World Champion AMT RN
Jackie Diane 1957
0121218 gray

Roney's Babe 1959
0100826 bay

Easter Money 1954
0083892 dun

How D Silver Man 1980
1581849 gray
Miss Amber 1941
0001388 bay
Montleon 1961
0194803 bay
H- 54.0 P- 13.5 Superior Halter, '66 O. AQHA Champion, '68 O. ROM Performance, '66 O. Stallion Offspring Record. Superior Halter Offspring. Superior Performance Offspring. AQHA Champion Offspring .ROM Performance Offspring. Race Money-earners. AQHA Offspring Record. Total Points Earned: 908.5; Halter Points Earned: 376; Superior Halter Awards: 3; Performance Points Earned: 532.5; Performance Point Earners: 32; Performance ROMS: 8; Superior Performance Awards: 1; AQHA Champions: 2; Total Superior Awards: 4; Total ROM's: 8;
Croton Oil 1955
0058971 sorrel
85 5 1 0 0 $ 770 ROM Performance, '58 Race. Race money-earner. SI: 85; Race: $770; Wins: 1; Stallion Offspring Record. Superior Halter Offspring. Superior Performance Offspring, Race & Arena. AQHA Champion Offspring. ROM Performance Offspring. Race ROM Offspring. Race Money-earners. AQHA Offspring Record. Total Points Earned: 2,737.5; Reg Foals: 373; Number Shown: 200; Point Earners: 72; Halter Points Earned: 1,915; Halter Point Earners: 70; Superior Halter Awards: 10; Performance Points Earned: 822.5; Performance Point Earners: 46; Performance ROMS: 30; Superior Performance Awards: 2; AQHA Champions: 16; Total Superior Awards: 12; Total ROM's: 30; High Point Wins: 1;Race Earnings: $100,269; Stakes Winners: 4; 90+ ROMS: 19; 100+ ROMS: 2; Race ROMS: 63; Superior Race: 2;
Pam Montleon 1972
0850290 bay
Monta Girl 1954
0047316 dun

Sweet Candy Cane 1961
0175233 bay
Ben Gib's Ace 1956 by Moores Ace
0057192 sorrel H- 15.0 P- 8.0
Hollywood Belle 1957
0091481 bay

DAM side of pedigree
Roan Bar Go 1978
1416653 gray
Fancy Roan Bar 1974
1044308 red roan Stallion Offspring Record. ROM Performance Offspring. Performance Point Earners. AQHA Offspring Record. Total Points Earned: 47; Reg Foals: 213; Number Shown: 7; Point Earners: 5; Performance Points Earned: 47; Performance Point Earners: 9; Performance ROMS: 2;
Roan Bar Dandy 1982
1947999 gray
Go Elsie Go 1968
0562006 gray
14 2 0 0 0 $ 0
Belle Dandy 1973
0983005 blue roan
Bell Boy Bar 1967
0674024 blue roan
Blue Cake Bar 1988
2789922 red roan
Tom's Roan Baker 1966
0421460 roan
Barts Blue Boy Too 1976
1266427 gray
Bart's Blue Boy 1968
0631570 gray
75 14 2 3 2 $ 311
Cake and Cream 1979
1545771 black
Pat Me Pat Star 1970
0696937 bay
Kristi Cake 1969
0652437 bay
Toad Kuper 1962
0224657 bay
Toad Cake 1964
0394149 brown
This page last updated 02/15/10