2007 Silver Grullo/Grulla Colt
Click here to inquire about this foal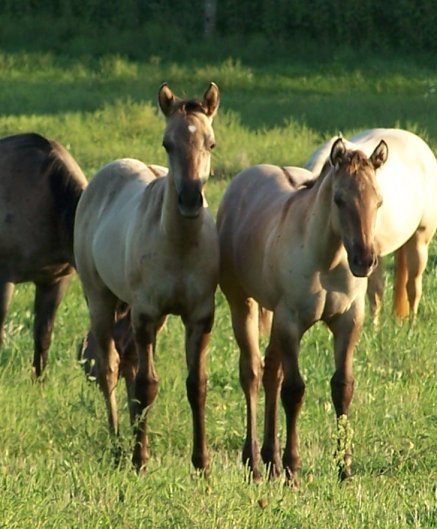 Chunk is on the right. August 30.
This colt has all black feet/legs and only a few white hairs/partial star on his face.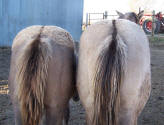 November, 2007 with full winter coat.
In photo at right, Chunk is by his half sister that is only 3 days younger than him.
AND, her dam is taller than Chunk's dam is! Chunk is a big boy!


June 28, 2007 for Windows Media Player


July 31, 2007 for Quicktime
This file will take longer to download.
(Quicktime is a free download for Windows or Mac here)
| | |
| --- | --- |
| | Born 5/15/2007 |
| | Sire: Mainly Merlin, light/silver grullo bulldog-built stallion |
| | Dam: Baileys Badland Buck, dunalino out of two grullo parents |
| | At this time, both of his parents have been 100% color producers. If they are homozygous for dun factor, then this colt will be also, and will be a 100% color producer. His sire has 11 foals so far (9 grullo, one dun, one red dun) and his dam has produced 6 foals (5 grullo, 1 red dun from 3 different stallions). We also believe he inherited a cream gene from his dam, which would make him a silver grullo both in color and by textbook definition. |
| | This is possibly the most muscular foal we've ever raised...and certainly is the prettiest-colored grullo I've seen! |
| | This colt has all black feet/legs and only a few white hairs/partial star on his face. |
| | A nice big colt with brilliant color...he is a rich silvery cream color with lots of striping. He has a few white hairs on his forehead that won't make a full star. |
| | Although his parents are both around 14.3 hh, this colt seems to be much larger than we'd expect of a foal destined for that height. His dam has produced larger offspring before, and our guess is that this one might be 15 hh or taller when mature. We don't feel comfortable guaranteeing that his size would be similar to his parents....he will probably end up taller. |
| | So far, dewormed 4 times (3x with Ivermectin, 1x with Panacur) |
| | Visit our Sale page for pricing and availability. |
100% color producer so far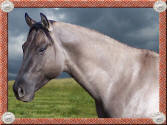 Click here for pedigree notes
SIRE side of pedigree
Hollywood Jac 86 1967
0592185 red dun
Hall of Fame, '93 NRHA Inductee, World Champion, 1974-75 NRHA Non Pro title. Top Ten World Show, '74 6th Sr. O RN, Superior Performance, '74 O RN, ROM Performance
Easter King 1951
0040406 sorrel H- 2.0 P- 4.0 Stallion Show Record: ROM Performance, '54 CUT, Stallion Offspring Record: Hall of Fame Offspring, NRHA World Champion Offspring Reserve World Champion Offspring Superior Halter Offspring Superior Performance Offspring AQHA Champion Offspring ROM Performance Offspring Total Points Earned: 2,631;
Jacs Little Pine 1981
1794304 dun
Top Ten World Show (5th place), '85 5th O Jr RN, ROM Performance
Miss Hollywood 1947
0020069 palomino P- 7.0 ROM Performance, '57 O, Perf Points: 7; Mare Offspring Record, Hall of Fame Offspring, NRHA, Reserve World Champion Offspring, Superior Performance Offspring, ROM Performance Offspring, NRHA Money-earners, Total Points Earned: 1,002;
Miss Doll Pine 1973
0966068 chestnut
Halter Point Earner, Performance Point Earner, NRHA earnings $8960. Offspring Record, NRHA Money-earners, NRHA Offspr LTE: $50,496, NRHA Offspr Avg Earnings: $12,624
Great Pine 1966
0410616 sorrel H- 25.0 P- 26.0 Stallion Show Record: Hall of Fame, NRHA Inductee, AQHA Champion, ROM Performance, Stallion Offspring Record: Hall of Fame Offspring, NRHA, World Champion Offspring, Superior Performance Offspring, AQHA Champion Offspring ROM Performance Offspring. NRHA Money-earners, NRCHA Money-earners, Total Points Earned: 1,985

Mainly Marty 1986
2459172 grullo

14.3 hh
(NRHA/AQHA producer)

Jinx Lucy Star 1967
0499408 dun
Mr Joe Glo 1968
0556944 black
AQHA Champion, ROM Performance, Halter Point Earner, Performance Point Earner, Total Points Earned: 46; Stallion Offspring Record:, World Champion Offspring, Reserve World Champion Offspring, Superior Halter Offspring, Superior Performance Offspring, AQHA Champion Offspring, ROM Performance Offspring, NRHA Money-earners, NCHA Money-earners
Lucky Joe Five 1956
0073678 sorrel H- 4.0 P- 8.0 Stallion Offspring Record: AQHA Champion Offspring, ROM Performance Offspring
Mainly Martha 1980
1666025 brown
Reserve World Champion Jr Reining, NRHA Open Super Stakes Champion. ROM Performance, Offspring Record, Reserve World Champion Offspring, NRHA, Top Ten AQHA World Show Offspring
Squaw's Glo 1960
0135283 dun
Babe Pat Star 1961
0260512 bay
H- 211.0 P- 75.0 (70 in cutting, 5 pleasure); NCHA Earnings over $5200. Superior Cutting, Superior Halter, Performance ROM, AQHA Champion. Offspring Record, Reserve World Champion Offspring, ROM Performance Offspring, NRHA Money-earners
Pat Star Jr 1953
0039072 bay Stallion Offspring Record, Superior Halter Offspring, Superior Performance Offspring, AQHA Champion Offspring, ROM Performance Offspring, NCHA Money-earners, AQHA Offspring Record, Total Points Earned: 3,533; AQHA Offspr NCHA LTE: $6,406, Leading Sire List: AQHA Performance List: #8 All-time leading broodmare sire of AQHA Champions - 23; #15 All-time leading sire of Open AQHA Champions - 20
Twinks 1955
0079608 bay

DAM side of pedigree
Top Amigo King 1983
2022919 brown
Top Brandon 1977
1277973 gray
Amigo King Star 1991
2994373 buckskin
Amigo's Suzanne 1968
0572756 bay
Dixie Rhea Star 1980
1591830 buckskin
Mr Rochester Star 1973
0917737 sorrel
Rhea Mare 26 1972
0863572 buckskin
Dedics Skippa Doc 1978
1362118 buckskin
Docs Frosty Buck 1975
1110368 buckskin
Maysdorf Honey 1982
1938649 dun
Reeds Skippa Miss 1973
0941887 buckskin
Schoolmarm 1974
1032766 dun
Wrangler's Kidd 1959
0121383 dun
Pool's Starpep 1966
0493841 buckskin
100% color producer out of 7 foals as of 2008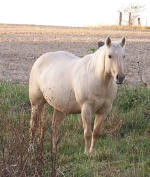 Buck Tommy
Dun H-52, P-5
Pretty Boy Buck
Dun
Blutcher Buck
Grullo
JS Peggy
Grullo
Hobo Reed
Sorrel P-.5
Pretty Buck Zeb
Grullo. 100% dun/grullo producer, 100% foundation. Sire of AQHA, ABRA, and IBHA point earners. Zeb was roped off of locally, but not shown AQHA. Full brother was 3rd at AQHA World Show in A. Team Penning, and earned NCHA COA.
Jack's Fancy
Bay
Pepper ByRemountStud
Buck Tommy
Dun H-52, P-5
Pretty Boy Buck
Dun
Miss Mary Blue
Grullo
JS Peggy
Grullo
Hobo Reed
Sorrel, P-.0
Judy Patterson
Sorrel
Patterson's Judy
Sorrel
Skip Comet
Sorrel
Skip Badlands
Sorrel
Badlands Caro
Sorrel H-12
Aces Full
Bay
Bar Caro
Chestnut
Miss Iowa Sun Glo
Grullo plus creme gene carrier
94%FQHR, 85% NFQHA,
Stereo Bars
Sorrel
Stereo Sorrel
Sorrel H-1
Poco Dun
Dun H-2 P-3
Poco Eleven
Dun P-2
Poco Sun Glo
Buckskin Dun
Miss Casey
Sorrel
Rusty Peanut
Dun H-1
Rusty's Hobo
Bay
Bronze Buckles
Bay